About Swink Heating, Air Conditioning & Electric
Swink Heating, Air Conditioning & Electric is a family-owned company that takes pride in ensuring that customers in Ardmore, Carter County, and the nearby areas experience top-notch workmanship and long-lasting results. With a dedicated team of technicians, plumbers, and electricians equipped with the tools and experience to handle a wide range of services, we are committed to delivering excellence in every job we undertake. Let us delve into each of these principles to illuminate the essence of our approach.
Integrity: We believe in the power of aligning our words with our actions. Our integrity shines through the consistency between what we promise and what we deliver, with our work serving as a testament to our commitment.
Dedication: Every individual we encounter receives the same level of care and attention as if they were a part of our own family. Likewise, every home or business we enter is treated with the same respect and responsibility as if it were our own property.
Sincerity: We always keep our customers' best interests at the forefront of our actions. Our sincerity is reflected in our genuine dedication to providing meaningful solutions and services.
Humility: With humility, we recognize the importance of each individual we serve and endeavor to exceed their expectations with every interaction.
We are always here to address your concerns and questions. Our friendly and knowledgeable team is ready to provide guidance and information throughout the service process. Your peace of mind is our priority.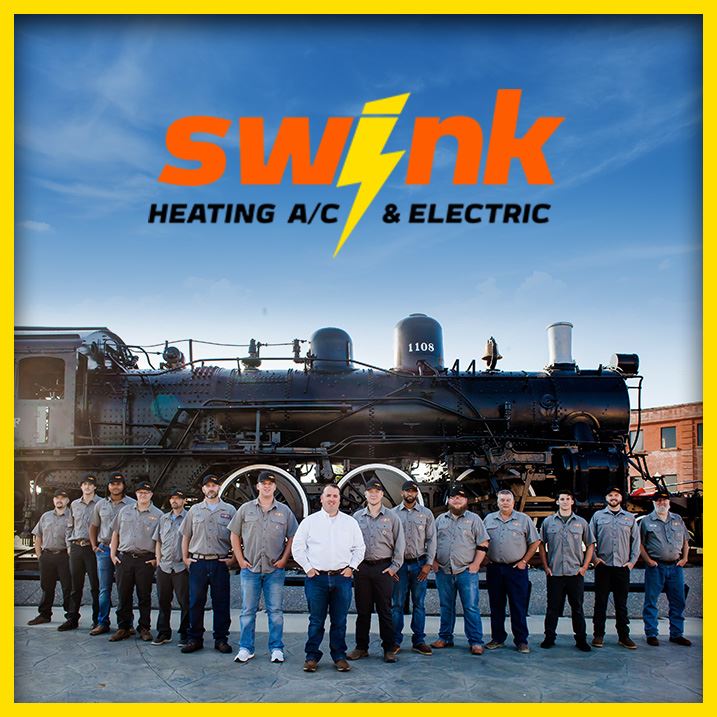 Why Choose Swink Air, Electric & Plumbing?
Serving Ardmore, OK Since 2005
One- Stop Shop!

Your one-stop shop for all your home necessities. Contact Swink today to get your home back in order!

Over 30 Years of Experience

Trust your local team with the experience to back it up. Experts in all your house hold needs.

Customer Care Focused

Our top priority is to always deliver our customers a top-notch experience and effective solutions.

Highly-Trained Technicians

We invest a lot of training into our technicians to ensure our solutions are effective.

How Can We Help You?
We offer a variety of services for all your HVAC, Electric, and Plumbing needs! Contac us today to request the services you need in your one-stop shop.
When you trust Swink Air, Electric & Plumbing, you can know the job will be done right the first time.
Customer Satisfaction Is Our Priority
Swink Heating, Air Conditioning & Electric, Inc. has earned a reputation for excellence through our dedication to providing top-notch services and exceptional customer care. We go the extra mile to ensure that our customers are completely satisfied with our work, and we stand by our commitment to being available to answer your questions and provide support at every stage of your project. Our technicians treat your property with respect, ensuring a clean and tidy work environment after each job.
We're Here When You Need Us
We are unwavering in our commitment to being there for you when you need it most. We offer prompt, same-day service and weekend appointments, allowing us to quickly assess your needs with complimentary, efficient estimates. With Swink Heating, Air Conditioning & Electric, you can trust that your home is in good hands at all times, and we'll be there to help you as soon as we can. We also recognize that unforeseen expenses can be a concern, so we offer flexible payment plans and financing options.
Call Us Today
Our commitment to your well-being extends beyond regular business hours. We offer 24/7 availability, 365 days a year, to ensure that your home or business remains safe, comfortable, and operational. We are honored to serve the Ardmore community and look forward to building lasting relationships with our customers. Thank you for considering us as your trusted partner for HVAC and electrical services.
Call us at (580) 203-6708 to book a service.